Affiliate Marketing Guide
Part 1 - Introduction
Dato for publisering:
Table of contents  ›  1. Introduction

In order to successfully promote campaigns as a publisher in the Daisycon network, and to earn money with your activities, it is essential to have a solid understanding of affiliate marketing. In this first part of our affiliate marketing guide we show you what it's all about. We look at how affiliate marketing works in theory, we explain it even further using a case example and we tell you what the most important definitions are for everyone who is involved with affiliate marketing.
What is Affiliate Marketing?
When it comes to affiliate marketing, advertisers (or their products) are promoted by publishers. Publishers are websites or other online media that send relevant website visitors to an advertiser using specific affiliate links. The advertiser pays a fee when a referred visitor proceeds to complete a purchase. This fee usually consists of a percentage of the purchase price. Publishers are often defined as «affiliates». We choose to use the term publisher, since you are the publisher of your own website, email database or other media type.
Essentially, affiliate marketing allows you to make money with your media, without having to sell any products yourself. The video below explains this further.

▲ Back to the table of contents


How does affiliate marketing work?
By using affiliate marketing, you can earn money, as long as you approach it in the right way. This is how it works: you promote the products or services of an advertiser available in the Daisycon network. To do this, you display the advertiser's available advertising material. This can be in the form of images, text links or moving gifs. The advertising material is linked to our measurement links, which track the number of visitors that are redirected from your website to the advertiser, and whether they actually purchased a product. As soon as your traffic converts to a transaction using the measurement links of Daisycon, you earn a commission.
We emphasise that successful affiliate marketing is only possible if you offer valuable and relevant content on your media. In addition, this content must be of added value for the consumer. There are many active publishers, so the competition is fierce. That is why you will have to approach this professionally.
The 3 most important definitions in affiliate marketing:

Advertiser
An advertiser offers services and/or commodities in an online environment. The advertiser has joined Daisycon and offers their advertising material there: banners, product feeds or text links. What these are exactly, will be explained later.
Let's determine for the purposes of example that the advertiser offers hip printed t-shirts, we'll call the company «Tees 4 Peeps B.V.»

Visitor
The (website) visitor is the person that purchases items or services online. This is an easy one.
In our example the visitor, Andy, is looking for a nice and original t-shirt. He searches on Google, reads his favourite blog and looks at a website about the latest trends.

Publisher
A publisher is the person with a website that has placed the advertiser's advertising material on his website using the corresponding affiliate links via Daisycon.
In our case example below, we call the fictitious publisher www.veryfancytshirts.nl.
▲ Back to the table of contents


A case example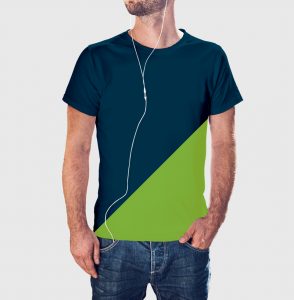 So what happens now is that the publisher places the promotional material, for example a banner, from Tees 4 Peeps on his website www.veryfancytshirts.nl. He writes a nice article about fashionable t-shirts and what is trendy at the moment. He makes sure that the correct affiliate link (explained below) is used while placing the banner.
The website visitor, Andy, finds himself on the site www.superhippetshirts.nl and reads the article about T-shirts. He sees the banner of the advertiser Tees 4 Peeps with a picture of a neat jersey. Andy wants to know more about the T-shirt and clicks on the banner. He is now redirected to the online shop of Tees 4 Peeps. The affiliate link placed by the publisher is immediately put to work. Andy buys his fancy T-shirt at Tees 4 Peeps and arrives at the thank you page. On this page, there's an (invisible) pixel from Daisycon that registers the purchase (anonymously).
Daisycon now has a record of Andy's buy in its system stating that the transaction started at www.veryfancytshirts.nl. The transaction is visible in the Tees 4 Peeps advertiser account as well as in the publisher account. As soon as the advertiser has validated the transaction, it will be visible as being approved in the publisher account of www.veryfancytshirts.nl. The advertiser pays the commission to Daisycon after which the commission to the publisher is distributed.
Andy doesn't notice any of this. He is just happy with the fancy T-shirt he bought.
▲ Back to the table of contents


The Daisycon affiliate link
By means of our affiliate links Daisycon can keep track of which publisher, for what specific advertiser, used which specific advertising material to generate clicks and transactions. Without using the correct affiliate link we cannot register clicks and transactions which means we cannot pay you for the promotions you do. Hover your cursor over this link. By doing so you can see an example of an affiliate link. At the bottom left in your browser window you can see this:


This link consists of several components:
ds1.nl – the Daisycon domain
This confirms the link is being monitored (matched) in MyDaisycon. Apart from ds1 we've got multiple other domains. For example jf79.net, lt45.net, dt51.net and ndt5.net.


WI – Website ID
The number behind WI is a unique ID that tells us on which website you promote an advertiser using this link. Each publisher website (media) registered receives a unique ID. So if you register multiple media they all get their own WI.


SI – Submerchant ID
The Submerchant ID is also a unique number, this one tells us which affiliate program/campaign you are promoting using this link. Just like every media gets its own ID, every advertiser that is registered at Daisycon receives an unique ID.


LI – Link ID
The Link ID indicates which specific text link or banner you are using to promote the advertiser. Link ID's are also unique numbers.
Other additional elements that can be used in the affiliate link, so-called parameters, are discussed later in the guide. For the basic structure of the link, WI, SI and LI are sufficient parameters.

IMPORTANT
When implementing an affiliate link on your media, make sure that you always see your Website ID. If you see another value than your WI, something went wrong. The best thing to do is to retrieve the link out of MyDaisycon again. Where to find this, and how to do this, will be explained in part 3 of the guide.
▲ Back to the table of contents


Important definitions
We've already explained some things about publishers and advertisers. Below these definitions are explained again briefly adding other important definitions used in affiliate marketing.

Advertiser
In the context of online marketing, an advertiser is the company/brand that advertises online. This is also referred to as a merchant. The advertiser is opposed to the publisher.

Publisher
A publisher is someone who owns an online medium. This can be a website, social media page, email database or an app. A publisher can promote advertisers using the Daisycon network, and make money as a result.

Affiliate network Daisycon
Daisycon is an affiliate network: an intermediate between publishers and advertisers. One of the primary responsibilities of an affiliate network is conversion matching and the allocation and payment of commissions to publishers. The network takes a lot of work off the hands of both publishers and advertisers. The best affiliate network out there is Daisycon, but that's just our opinion.

Matching & Tracking
Matching is the process of checking whether a transaction and therefore the corresponding payment can be allocated to a publisher. This is achieved by means of a conversion pixel that is triggered on the thank you page (displayed after the completion of a purchase) of the advertiser. An affiliate network uses the conversion pixel to match whether the transaction was generated by a registered publisher. The publisher is then allocated the corresponding compensation in MyDaisycon.

Conversion pixel
The conversion pixel is a tiny piece of code that an advertiser implements on the thank you page of his webshop/website. When a visitor completes a purchase on the website, the conversion pixel is triggered. Due to this trigger the affiliate network can determine whether the visitor was redirected by one of its registered publishers. If this is the case, that publisher receives a commission.

Commission types:
CPS – Cost-Per-Sale
A CPS commission is paid if a redirected visitor proceeds to a purchase on the advertiser's website. In other words, a purchase must actually be made.

CPL – Cost-Per-Lead
A CPL commission is paid when a visitor leaves personal data on the advertiser's website. A lead is for example a request for information or a subscription to a newsletter. The advertiser then uses this data for marketing purposes. There is no need for an actual purchase to be made.

CPC – Cost-Per-Click
CPC is a remuneration model in which a publisher receives a small payment for each unique visitor that clicks on an affiliate banner or text link. This means that the visitor doesn't need to leave data behind and doesn't need to make a purchase for the publisher to be paid.
Not every advertiser offers a CPC fee, and not every publisher may include CPC promotions. In general, only qualitative websites with a proven track record are entitled to a CPC fee from Daisycon. Which publishers this involves is determined by Daisycon in consultation with the advertiser.

Media
Media is a collective term for websites, e-mail databases, apps, social media and expressions using keyword marketing. Read our extensive FAQ article on media types here.
TIP
As said, there are many more definitions, but these were the most important ones. For a full list of terms, take a look at
this page
.
▲ Back to the table of contents


Start immediately with affiliate marketing
There are various ways to start with affiliate marketing. You can launch a blog and write about topics you're passionate about, or create content on social media as an influencer. If you already have a website or other media that you use, you can register your media for free at Daisycon and kickstart your activities as a publisher.
Our in-house developers create tools and widgets like our energy comparison tool and Daisycon's shopping widget amongst others. These widgets are an easy way to promote multiple advertisers in a few short clicks. In addition, they can bring your website to a new level in terms of design and appearance. In part six of our Affiliate Guide you can read more about the advantages of our widgets and how to use them.
It is possible that you are starting off in high spirits, but are not yet sure about what or how to do affiliate marketing, or whether affiliate marketing is suitable for you at all. The most important thing is that you do something that you know a lot about and are passionate about, or that you have a very unique idea or concept. Finding that niche is important nowadays, when there are so many publisher websites, in order to be able to distinguish yourself. Next, you can check our campaign overview to see if we have advertisers in our network that match your passion, skill or interest.
The most important thing is that you find a network that can help you realise your growth objectives and guide you where necessary! We offer proactive support in promoting our campaigns and the use of our affiliate marketing services and tools. You can also reach out to us, and advertisers using our ticket support system.
▲ Back to the table of contents


What will I earn with affiliate marketing?
How much you eventually earn with your affiliate activities is of course up to your own efforts. Using the extensive statistics in MyDaisycon, you can see the results of your promotions and work on improving your conversion. A better conversion leads to better earnings. How much you get out of it depends on the time and energy you put into your affiliate promotions. Bear in mind that advertising in a niche market with a lot of competition will generate fewer results. Affiliate marketing is in no way a method of obtaining fast and easy money or financial independence; you have to pay attention to your affiliate activities in order to become a successful publisher.
▲ Back to the table of contents


Short Summary
You now understand the basics of affiliate marketing and you can explain how it works by using an example.
You know what a Daisycon affiliate link looks like and what the different values in the link stand for.
You know the most important definitions that affiliate marketeers use.
If this is correct, you're now ready to continue with part two of our Affiliate Marketing Guide. In part two we focus on registering and verifying your media and tell you more about the different types of payout plans.