Cashback: do or don't?
Date of publication:
Compared to 2016, the turnover of cashback websites grew strongly in 2017 and this trend is continuing in the first half of 2018. However, opinions about cashback websites are divided. Regularly we see advertisers who are really enthusiastic about working with cashback publishers, while some advertisers remain sceptical and do not (yet) see the added value. We therefore answer the following question; is working with cashback websites a do or don't?
If you, as a consumer, can save money on your purchases, why wouldn't you? An attractive discount can give the consumer that final push towards making a purchase. Discounts generally have a positive effect on consumer buying behavior (Kotler, 2003). We all remember the times when we had to cut out vouchers from magazines or newspapers to hand them in at the relevant store.
Eventually, it even led to television programs such as 'Extreme couponing', in which enthusiastic collectors of vouchers even earned money with shopping. With the rise of e-commerce, physical discount vouchers have become redundant to a certain level. Nowadays, there are numerous promotional codes and cashback websites where everyone can easily save money on purchases.
How does cashback work?
A cashback website is a website where members earn back a percentage of their online purchases. Without cashback websites, a consumer usually directly purchases from a webshop. Consumers who are connected to a cashback website, on the other hand, first go to the cashback website, where they search for advertisers.
Via this platform they click on the link to the relevant webshop, which then leads to a transaction. The cashback website receives a commission from the retailer for the delivery of the consumer. The cashback website then pays back a part of that commission to the consumer.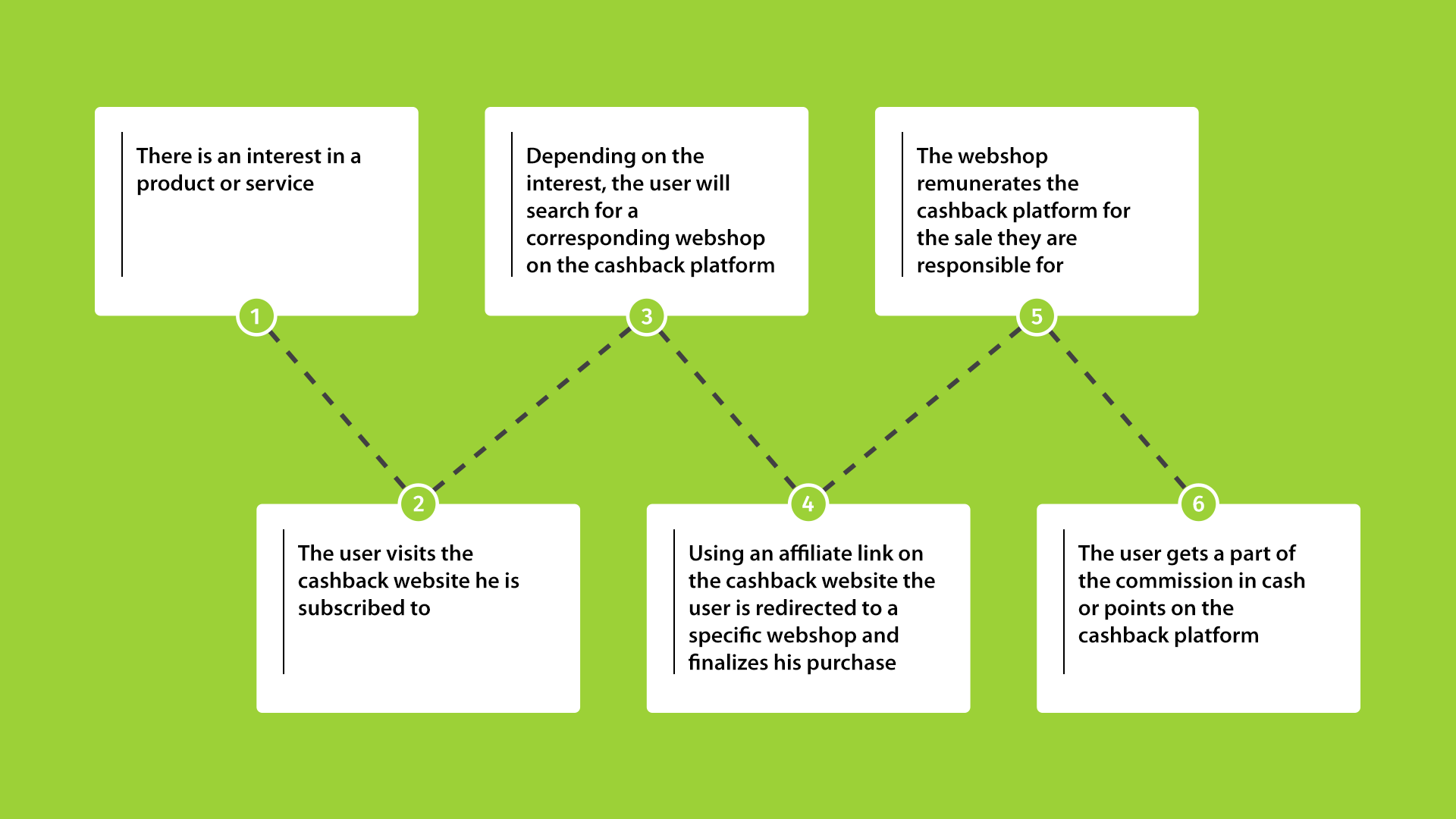 Loyalty
We distinguish two different types of cashback platforms. Members always receive a reward for their purchase on both platforms. The first type of platform pays their members in normal currencies, in this case Euros. For the other type of platform, members are rewarded in points. These points, for which a different name is used in each platform, can be used by a member for a discount on a subsequent purchase via that cashback platform.
In addition to saving money for yourself, a cashback platform can also be constructed at saving for another, such as for a foundation or the local sports club. The cashback obtained through such savings programs does not go into the user's wallet, but is donated to charities or associations. The direct reward that members receive from a cashback or savings program ensures that members are loyal to their platform.
Only the 'last click'?
A frequently heard statement is that cashback platforms focus purely on the last click. This is incorrect in our opinion. Of course there will always be visitors who shop online and later in the customer journey search for a way to get a discount on their purchase. However, using a cashback platform for a quick discount is not possible. To receive cashback, a consumer must have an account with the cashback platform. It then takes an average of three months for the consumer to get that cashback back on his account or use the points for a subsequent purchase.
The threshold for a consumer is therefore much higher than, for example, when using a voucher code. Generally, members of a cashback platform log in multiple times on a daily basis to track the progress of their loyalty points or payout. Through the website they are encouraged to make more purchases. For example, cashback platforms try to attract the attention of their members through banners, top lists and sometimes emails and forward them to the websites of advertisers.
Cross-selling
Collaborating with a cashback platform is a cheap and effective marketing tool for advertisers. The traffic sent to the advertisers website is free of charge. Advertisers only pay the cashback platform when a conversion has taken place. The purchases coming from cashback platforms are generally high.
This is because cashback encourages making purchases. The amount of cashback can also depend on the total order amount. For example, cashback platforms provide a higher cashback when buying multiple products (cross-selling). In addition, receiving cashback or not can have an influence on which webshop will be chosen by a user to make his purchase.
"Discount in the form of cashback is not paid by the advertiser, but is paid by the cashback publisher."
To conclude
Coming back to the question 'working with cashback websites a do or a don't' I say: DO. The main reason is that cashback platforms encourage consumers to make purchases. As an advertiser, it is obviously nicer for the budget not to pay a commission on a transaction that would have happened without the presence of cashback. However, in the current competitive time, where a specific product is available at various webshops, I think it is important to not close your eyes and to be open to this collaboration. Cashback platforms are often large organizations that are open to a dialogue. Therefore, discuss with these parties what your wishes and objectives are and then keep an eye on the results together.
Cashback platforms also have many valuable customer information for advertisers. This allows them to target very targeted customer profiles. In short, enter the dialogue, start a test period and cash in the chances, because in our view you have little to lose.
Would you like more information about cashback websites or start a collaboration? Please contact us, we are happy to help you.