Step forward: Daisycon launches two tools for shoe-shopping
Date of publication: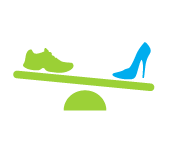 Daisycon has a strong portfolio fashion and shoe advertisers. To service both advertisers as well as publishers in this vertical, Daisycon recently launched the 'Shoe Finder'. As the name implies, as a publisher you can search for shoes in the broad collection of the many Daisycon advertisers. The tool then directly enables you to place a banner for specific shoes on your websites. Today Daisycon launches a second tool: the Shoe Comparison Tool.
The Shoe Comparison Tool leans on the same database of shoes originating from the advertisers, but shoes are presented in a different way. As a publisher you can set up and launch a comparison tool for your website in three easy steps.
The shoe potential
These are ideal tools for fashion bloggers and comparison sites to easily promote shoes through Affiliate Marketing. For those publishers not yet aware: shoes are a very profitable segment. The commission fees are relatively high and order values quite often rise . During the last edition of the Dutch e-Fashion summit, market researcher GfK reported that shoes are the number one fast growing segments in online shopping. Sounds interesting, right?
Currently the tools have a Dutch interface. Publishers can customize the look and feel . Both tools come free of charge and 100% of the commission are earnings for publishers.
The Shoe Comparison Finder benefits:
Great collection: over 25,000 shoes available
Quick and easy: no longer the need of searching for and adding images, links work straight away
Always up-to-date: prices and collection are automatically updated every night
Optimised for conversion: Daisycon analyzes results and automatically launches improvements.
Look and feel are customisable
Free of charge
Want to learn more about the expertise of Daisycon? Become a publishers or promote your affiliate campaign in the Daisycon network? Make sure to contact us!