How to recruit publishers to further develop your affiliate campaign
Auteur: Johanna Floris, Channel Manager France
Date of publication:
Starting an affiliate program allows advertisers to meet their traffic and sales goals through long-term partnerships with relevant and effective publishers (or affiliates) that generate sales conversions.
Advertisers that are active on the Daisycon platform gain access to a wide variety of publishers that are present at every stage of the digital customer journey. However, it is not enough to just start your affiliate program and expect publishers to do all the work. First, the program must be attractive enough to convince and motivate publishers to promote your products and your brand.
What is an attractive affiliate program for publishers?
A fair and motivating compensation
Acquisition levers on the entire customer journey (content, comparison shopping, cashback, social networks, emailing…)
A quality product
A professional website
Fast transaction approvals and payments
A variety of promotional material: banners, product feeds, voucher codes, email template…
Regular special offers: challenges, payout increases, news, contests, sales, fixed fees banner placements…
An affiliate program from an already well known brand will attract many publishers who sign up by themselves. In this case, the collaboration between advertiser and publishers starts very fast.
For other advertisers, the launch of their affiliate campaign may take a bit longer because of lack of brand awareness or because their niche product limits the number of potential affiliates. Also, an active program may need to attract new publishers over time to give it a boost. Whatever the situation, you'll need to work on recruiting new affiliates to grow your affiliate campaign. Check out our 8 tips for setting up an effective strategy that wins in the long run.
Please keep in mind:
A well executed affiliate marketing campaign can significantly increase your visibility and online sales, but it requires respecting two essential points:
Offer attractive promotion conditions for affiliates
Do not neglect affiliate recruitment, it must be organised in a proactive and continuous way.
1. Create an affiliate landing page
It is essential to inform your potential partners of the existence of your affiliation program by creating a dedicated landing page on your website. On this page, you can redirect your visitors to the description of your Daisycon campaign. It should mention all the benefits of your program and display a CTA for publishers to sign up directly. Optimise the content for SEO with keywords that are relevant to your business and oriented to affiliates. Also, place a link in the footer of your website with for example, the mention "Affiliate Program", "Become an affiliate" or "Partnership" to give visibility to this page.
2. Identify possible publishers
It is necessary to look for publishers corresponding to your product category and field of activity to identify potential new affiliates. Open your search to different types of publishers such as content sites, blogs, comparison sites, promotional codes, cashback sites and social networks. Contact these prospects to present the benefits of your affiliate program.
Tip:
Set up Google Alerts on keywords specific to your products to receive suggestions about new publishers.
3. Competitor Analysis
By using search engines or specialised tools like SimilarWeb, you can determine which sources mention your competitors. Like this, you can discover new publishers for your affiliate program, because if they are promoting your competitor, chances are that they are also interested in your products. Another technique is to study your competitors' backlinks, i.e. the external hyperlinks pointing to their site, using SEO tools.
4. Starting an paid ads campaign
With this, your main goal is to convert your visitors into affiliates. Choose the most relevant paid advertising channel and target keywords such as "category/product + affiliate" to reach media looking for an affiliate program like yours. With a Google Ads campaign for example, the money invested in recruiting affiliates will have an exponential return.
5. The use of social networks
You probably have a lot of potential affiliates within your own social community who follow you and show interest in your products and brand. To solicit and inform them, share your affiliate program on your social networks. In B2B, professional social networks like Linkedin are preferred, but it can also be interesting to add a link to your affiliate program in your Instagram bio for example.
6. Collaborate with influencers
Micro-influencers will be able to work on a pay-for-performance model if they receive incentives such as dedicated promotional codes or products to test after which they can share about them within their community. Invite them to register as a publisher in our affiliate network and offer them the elements they need to promote your products.
7. Work on SEO
Write blog posts and press releases about affiliate marketing in general and your affiliate program, and make sure to optimise these pages to increase your rankings in organic search results. SEO allows potential affiliates looking for a program in your niche to find you.
8. Networking
Participate in trade shows, become visible on forums, conferences, discussion groups related to your topic, digital marketing or more specifically affiliate marketing. There are specialised groups on Linkedin or European fairs such as Affiliate Summit Europe, DmExco, E-marketing etc… Being visible, you will get in touch with publishers and develop new partnerships.
Focus on Daisycon: how to find new publishers?
As an advertiser in our Daisycon affiliate network, you have access to several thousand publishers. You can search for publishers by media type, category, keywords, location, etc. and contact them directly by sending a message using our platform. You can send them an invitation to join your affiliate program. It is preferable to personalise your invitations or to offer an incentive in order to peak the interest of future partners to collaborate with you.
The mentioned affiliate acquisition methods will help you grow your affiliate base and give your program more visibility.
Always keep in mind that this is a win/win collaboration and a long-term relationship.
To convince publishers to join your affiliate program, it is essential to offer them attractive terms and conditions, and present them with an honest and realistic pitch on the benefits of the program. Keep your commitments, answer your affiliates' questions, validate and pay their commissions on time. This will make them more likely to actively promote you.
The program should be dynamic throughout the year: offer frequent actions for publishers and provide all necessary promotional material, such as banners, promotional codes, product feeds etc.
Follow up with registered but inactive publishers by motivating them with bonuses, contests or challenges. To maximise your performance and reach your goals, take care of your affiliates as partners and ambassadors of your brand!
Want to know more?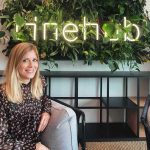 Contact me or fill in the form on this page.
Johanna Floris, Account Manager France
Daisycon (Part of Linehub)