A performance-based marketing strategy ensures Luksusbaby.dk generates over 33 million Danish kroner in revenue solely in the Danish market
Date of publication:
In a challenging time for retail, both in-store and online, the online store Luksusbaby.dk relies on a performance-based marketing strategy. This approach has yielded results with over 40,000 orders in 2023.
According to Dansk Erhverv, inflation, war, and rising energy prices have affected the purchasing power of Danish consumers. After a challenging 2022, the challenges for retail, both physical and online, seem to continue with declining sales in the first and second quarters of 2023. This impact is also evident at the online store Luksusbaby.dk, which is competing for customers in a tight market for baby equipment and clothing.
"After a couple of good years during the coronavirus pandemic, we are now tightening our efforts and competing more for customers than before. It goes without saying that our marketing strategy needs to be razor-sharp."
CEO and founder of luksusbaby.dk, Morten Grabowski Kjær.
Experienced business men in uncharted waters
One of the recent additions to Luksusbaby's marketing mix is performance-based affiliate marketing, managed by the affiliate network Daisycon.
"The people behind Luksusbaby are experienced business men who have an exceptional understanding of their target audience and their needs. However, they have not yet seriously measured their strength with the type of marketing and market access that we offer. So, we have been able to contribute greatly with our expertise and add a new and usable branch to their marketing setup."
Nordic Partner Manager and responsible for the Luksusbaby collaboration at Daisycon, Martin Mogensen
The ramping up of the collaboration between the two parties has been underway for some time but gained momentum in May 2023. Since then, it has progressed rapidly, and Daisycon can already show impressive results with over 38 million Danish kroner in revenue for 2023 for all of Luksusbaby's online stores.
"We want to be top-of-mind and present on as many platforms as possible to maximize our visibility to customers. The collaboration with Daisycon is our first experience with affiliate marketing, and like with any other form of marketing, we look at what we get for our money. Unlike other marketing forms, we know precisely what each penny brings in, and so far, it looks very promising."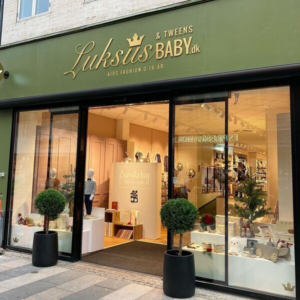 Transparency and trust are crucial
Over the years, the people behind Luksusbaby have tried various marketing strategies, but they have only recently joined the affiliate marketing trend. The choice of Daisycon as a new partner is largely due to Daisycon's approach being data-driven and transparent.
"We want integrity and sincerity when entering into agreements with external partners. We have found that with Daisycon, as the collaboration has been transparent, open, and honest from the beginning," says Morten Grabowski Kjær. He adds:
"With external partners like Daisycon, customer service and contact with the people behind the scenes play a significant role in the experience. Martin and Daisycon are very proactive and make us feel secure as customers. 2023 has been another challenging year so far, but we trust our own and our external partners' abilities to get us through to, hopefully, a profitable 2024."
Information: Affiliate marketing
When a business enters into an affiliate marketing partnership with an agency like Daisycon, the agency helps the business reach potential customers by placing relevant affiliate links to the business's online store on media and with influencers from the agency's national and international network.
Affiliate marketing stands out from other typical online marketing disciplines such as Google Ads and social ads by being performance-based, where the advertiser only pays for orders that result from the agency's affiliate campaign. The commission that is pre-established is a percentage of the order value, so the parties involved know what the collaboration will cost compared to the revenue generated.