Performance marketing for app-installs
The benefits of transparency and combined commission models
Date of publication:
Daisycon's services are performance-driven. This traditionally includes affiliate and lead generation, while the importance of app-installs has grown strongly in recent years. The publishers in our network promote app-installs for a diverse group of advertisers. In this blog you will learn more about the importance of transparency and relevant commission models.
Daisycon has made a completely transparent business model. As an advertiser, you will also benefit from the following possibilities for promoting your app:
Being able to carry out your own publisher approval.
Promotion by relevant, target-group-related publishers.
Being able to view relevant publisher information.
Communicating via the ticket system in MyDaisycon, the online interface.
Campaigns entirely under your own control or managed entirely by Daisycon.
Accessible: No minimum 'budget spend'.
Performance-based fees can be set.
These advantages can also be translated into the publisher's perspective: you get access to the highest quality campaigns in the market and, as a publisher, you have the opportunity to get in direct contact with the advertiser. Finally, on the basis of your performance, you have the prospect of higher commissions.
The importance of transparency
Making app-installs more transparent is important and valuable for the following reasons: first of all, ensuring brand safety. It is important for an advertiser to know where the advertisements will be placed and whether this is in line with the positioning and brand values of the company.
Secondly, there is the prospect of conversion. By keeping track of which types of apps and websites are best converted, you can optimise them. If all goes well, you will also know exactly where the target group is not located.
In the end, just like in any other business, there are unfortunately also people with less than good intentions. The strong growth of the turnover that deals with app-installs also attracts entrepreneurs who don't take ethics very seriously: according to a Juniper Research forecast, the growth of ad-fraud in 2019 will be 21% compared to 2018. Juniper does not foresee an end to the growth of these figures for the time being. Daisycon's transparent working method is a welcome answer to this question.
Combined commission models: aim for quality
The power of Daisycon is performance marketing. Because the focus is purely on performance, the fees are also based on this. The possibility of CPI campaigns (cost per install) remains an option. It is important to realise that you have no guarantees on the quality of the traffic. If, on the other hand, you pay for the actual action, i.e. CPA (cost per action), as an advertiser you can be sure of quality. After all, it is not so much about the first step, installing the app, but rather about the second step…moving on to actions that have value for you as an advertiser.
Think of the following examples:
Shopping: creating an account, rewarding the adding of items to a wish list and a CPS fee on sales from the app.
Dating: creating a profile and then upgrading the account with credit.
Gaming: creating a profile and making purchases or reaching a certain player level.
Finance: creating a profile, making a money transfer and linking a credit card to the account.
In addition, setting up a campaign based on CPA provides an additional boost in the number of app-installs. According to Branch, one of the leading international platforms for mobile traffic and app-installs, a CPA campaign will result in an average of 1.5 times more organic growth in the number of app-installs.
Also possible: collaboration based on 'rev-share'
Also valuable to know: at Daisycon it is possible to work on the basis of so-called 'rev-share', which stands for revenue share. This means that a remuneration model can be agreed whereby the specific publisher who originally introduced the new customer receives repeated fees. Each time the customer generates revenue, for example by upgrading credit, part of that revenue goes to the publisher.
The main advantage: for both the publisher and the advertiser, it is lucrative to aim for the highest possible quality of traffic, which leads to long-term customer relationships. Daisycon supports the technical implementation of this, which is completely safe and anonymous for the customer.
Daisycon will be happy to advise you on the commercial considerations involved. By diversifying your remuneration model, your campaign will become attractive for publishers to promote!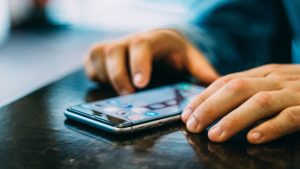 For iOS and Android
of course it is possible to offer both Android and iOS apps for promotion in our network. Our own proven technology is available to measure the campaigns.
In addition, we work together with 3 leading MMPs: Mobile Measurement Partners. These partners are specialized in mobile attribution and analytics: Appsflyer, Addjust and the aforementioned Branch. In addition, Daisycon's channel managers support the implementation of these.
Time for action
Do you want to increase your app's reach and generate more traffic and sales from it? Use the contact form on this page to contact us to set up a campaign.
Are you already active as an advertiser at Daisycon with a campaign for your app? Feel free to contact your Daisycon contact person to walk through the reimbursement models together.
Are you reading this blog as a publisher and do you have a lot of mobile traffic that you can use to promote our advertiser? Create an account for free or, if you are already active, contact us using the form on this page to discuss the available campaigns.