Daisycon further expands its activities with the cooperation with Sovendus
Date of publication: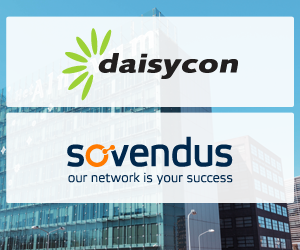 Daisycon continues to build its national and international operations by entering into a joint venture with Sovendus GmbH. By partnering Daisycon increased its product offering with the service Sovendus, leading in performance based check-outmarketing. Sovendus in turn relies on the strong network of Daisycon in the role of a catalyst for growth in the Belgian and Dutch markets.
Sovendus is active in check-outmarketing since 2008. After a purchase unique vouchers from other companies are displayed to the customer. These advertisers profit from both branding and the acquisition of new customers and newsletter subscriptions. Participating companies share the vouchers in a closed network. This allows for relevant offerings to customers with proven purchase intent. Sovendus, originating from Germany, is active in several European countries including the Netherlands and Belgium as Daisycon is.
Both Daisycon and Sovendus will continue to operate independently. The experience and expertise gained by Daisycon with the launch of Affiliprint will now be continued in the form of cooperation with Sovendus. In 2012 Daisycon provided strategic support in the Dutch market introduction of Affiliprint, market leader in offline performance marketing through inserts in parcels and print media.
Daisycon, Affiliprint as well as Sovendus focus on bringing together the most relevant offer. The three of them form a strong marketing combination serving the Dutch market from the shared office in Almere, the Netherlands.
Contact us via mail to benefit from this cooperation.
About Sovendus
The company Sovendus GmbH in Karlsruhe, established in 2008, operates a network of more than 600 online shops in Germany, Britain, France, the Netherlands, Austria and Switzerland. From offices in Karlsruhe and London, Sovendus offers consumers numerous benefits and helps the partners shops in winning new customers and generate additional sales. The strengths of Sovendus are innovative IT solutions, tailored customer service and special technical expertise.
Visit the Sovendus website for more information