Streaming services and affiliate: the time to start is now
Answers to 8 key questions about one of the fastest growing verticals within affiliate marketing.

Author: Philip Lasance, Media Planner Lead Generation Daisycon (part of Linehub)
Date of publication:
Who hasn't heard of the Streaming Wars? This is what marketers call the increasing competition between the major 'subscription video on demand' (SVOD) platforms. With the arrival of Disney+ and HBO max, we see that this battle is far from over.
It's hard to imagine having just one content provider for all your entertainment. The fact that there are different players active in this part of the entertainment industry, is just as logical as the fact that there are different television channels. It will not have escaped your notice that we have all started to watch more video on demand.
In the Netherlands in 2019, the amount of time consumers watch video on demand was greater than the time spend they watching linear TV: 27 versus 24 percent (Source in Dutch: Multiscope). Therefore, this vertical in the affiliate landscape deserves special attention.
But why are these campaigns so successful? And how can you, as a publisher, make the most of this? Lead generation specialist and expert within this sector, Philip Lasance, answers the 8 most important questions for a successful promotion.
Who is your target audience and how can you best reach them?
Let's start at the beginning: the target group. The nice thing about VOD, is that this service is interesting for a very broad target group. From children's films and series to exciting action films or interesting documentaries. The broader the offer, the bigger your target group. In our network, we have a lot of publishers with series and film related content. For example film review sites, news about actors and show business. Do you manage a website or app with such content? Then an affiliate campaign in the vertical media and video-on-demand is the most obvious choice.
Think out of the box: publishers from the Travel and Utilities vertical can also choose a smart approach to promote a VOD platform. For example:
"On the road watching your favorite series or a movie? Be prepared for the trip and download all your favorite movies and series".
In addition, consumers who are planning to choose a new internet provider, are also more open to a new streaming service.

When is the best time to start promoting?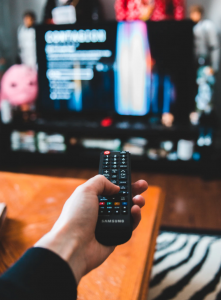 The most famous affiliate campaign, within VOD, was that of Netflix. Unfortunately this campaign hasn't been available for years. And that has an important reason: The most popular over-the-top (OTT) streaming service 'of all time', with almost 150 million worldwide subscribers, has now become so strong that they no longer depend on paid advertisements to recruit new subscribers.
That's why the best time to join as a publisher is: NOW! Because the longer you wait, the greater the chance that you will lose traction or even worse: that fees will go down or even the campaign will be terminated.

What are the biggest VOD affiliate campaigns?
There are thousands of streaming and movie apps available worldwide. The most famous are Hulu, Disney+, HBO and Amazon Prime Video. And of course each country has its own local players, in the Netherlands Videoland is the best known example.
As a publisher it's useful to know which affiliate campaigns are available, so you can test which one delivers the best return for your reach. Are you a performance marketer or growth hacker for a video on demand platform? Then it can be useful to see what your competitors have to offer. Make a benchmark of commission, type of media and check the flow a new subscriber has to go through to become a member.
What type of publishers are allowed?
These affiliate campaigns are aimed at recruiting as many members as possible, in a short period of time. The goal is to quickly collect a lot of data and build a user database (opt-ins). Often many types of promotion are allowed.
Think for example of incentivised traffic, such as offering cashback or points in a loyalty program. In some cases, special discount codes can be promoted by publishers who can reach an extremely interesting target group in a closed marketing environment.

What are the key success factors?
This is, of course, a very big topic. But in my experience there are a number of elementary factors that determine the success of a video on demand campaign. You can't ignore them:
There is a free trial period (7 days, 14 days, 30 days) during which the subscription can still be canceled
You get discount on an annual subscription (lower churn)
Short, rapid sign-up for new subscribers (max 3 steps), with clear insights on the terms: monthly fee, cancellation conditions
Work with locally accepted payment platforms in addition to the standard credit cards. In the Netherlands the conversion drops up to 5% if there is no iDEAL payment option.
What type of commission is used?
In general, we work with a CPA fee, or Cost per Action. In the vast majority of all streaming service campaigns, the 'Action' is subscribing for the free trial period. We qualify this as a billable action. In addition, some brands offer extra fees for annual subscriptions or when their visitors buy a gift voucher. For this a Cost Per Sale (CPS) percentage can be used.
Finally, it is also common to make a distinction in commission between content, deal and incentivised traffic. In this case, the media that generates subscribers with the highest churn rate receives the lowest fees.
This makes sense, as a subscription based service model can only exist thanks to the Monthly Recurring Revenue (MRR). The higher the churn, the more expensive the campaign becomes. Because if you only sell trial periods, the marketing budget is quickly exhausted.
Average Revenue Per User
However, you cannot expect that every new user is actually satisfied with a service. That is why VOD parties also look at the Average Revenue Per User (ARPU). This number represents the value of a customer over a certain period of time.
The amount is influenced by a discount, that customers receive for an annual subscription. Or different types of subscriptions such as HD quality or expanding the number of users per account.
High commissions
Add up all expenses for acquiring a customer and divide these by the total number of new customers. Then you get the Cost Per Acquisition (CPA). We see commissions between €5 to €20 for a free trial period.
The fact that high fees are given is partly due to the fact that there is a lot of competition. In addition, series, film and tech related traffic from websites is relatively more expensive compared to other channels. This explains why good commissions are paid out by advertisers.

What type of media deliver the best performance?
Without a doubt, all the major content and news websites during the launch of a campaign are the very largest media type. In addition, the cashback and loyalty channel can make a significant contribution thanks to large email databases. In the long run, qualitative users are recruited via content and video on demand comparison websites.

Creatives: what converts best?
What converts well in terms of promotional material? This is a very frequently asked question by both advertisers and publishers. And also a difficult question to answer, because there are so many different types of media and target groups.
Advertisers
First of all, you have to decide what message you want to convey and how you are going to do it. Publishers generally know best what converts well, but we generally see the best results on text links in content.
With dedicated emailings you generate the highest conversion when a publisher uses a 500×500 pixel static banner, combined with an introductory story about the service and offer.
Getting started!
An attractive revenue model and positive growth within this vertical make it interesting for publishers to promote streaming services and video on demand.
Are you convinced to get started after reading this blog? Sign up directly via MyDaisycon. Do you want some more information first?
contact me, I will be happy to help you.