The power of email marketing
Valuable, efficient channel for customer engagement
Date of publication:
Email marketing has lasted longer than social media or other new channels. But does it still yield any benefits? Trends show (link in Dutch: benchmark from Dutch Data Driven Marketing Association) that it is less used by the marketeer in 2019. This year up to 20% less mailing campaigns were sent out compared to the same period last year.
Now what? Email marketing out the window?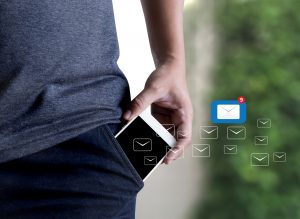 Certainly not. Because despite this decrease, the opening rate has remained almost the same, and the click-through-rate has even increased. This shows that the effectiveness of this channel has not decreased. Email marketing therefore certainly remains a valuable and efficient channel to convey a message to your target group, and also to create customer engagement.
The GDPR probably influenced these figures slightly. Many companies are more cautious with email marketing since this privacy legislation is in force. Some have even had to declare entire databases unusable, because they are not GDPR-compliant, and therefore have to rebuild their databases.
Affiliate marketing lends a hand
Fortunately, Daisycon has an extensive, European network of high-quality mailing publishers, with databases that are GDPR-proof. By using them as a partner on your online affiliate campaign with the aim of generating sales, you as an advertiser reach a huge target group. Do you have a large database of your own? That's great. The databases of these publishers often turn out to be a good addition.
Alessandro Gherardi, publisher Advice Global
"After 30 years, email marketing is still the largest channel in the world. Consumers change name, partner, job or country, but often keep the same email address. So it's a valuable connection. A good email marketing strategy is a must-have for every business: it is a direct message aimed at a consumer who actually wants to receive this message. Through open ratio, clicks, leads and sales, you can also perfectly understand the success of such a campaign and consumer behavior and respond to it for a high ROI."
Email marketing is sometimes somewhat sensitive because of the aspect of image and branding. As a brand or webshop you want to know which messages are being sent. Fortunately, Daisycon has short lines of communication with the publishers, so that you can switch quickly and concretely. A good relationship between advertiser, network and publisher is important here. Many publishers can also personalize mailings. By the way, did you know that a personalized subject-line increases the open ratios by an average of 10%?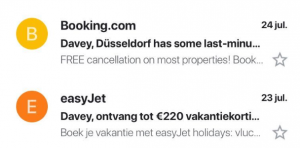 Convenient: e-mail approval tool
A handy tool that Daisycon offers in this respect is the "email approval tool". All mailings that publishers wish to send must be submitted for approval. This way, as an advertiser, you are always assured of a final check on the communication about your brand.
It is also possible to use a suppresion list. Publishers can download these from MyDaisycon, anonymised in accordance with the law, and thus match them with their own database. Consumers who have explicitly indicated that they no longer want to be contacted will be removed from the publishers' database before the mailing is sent.
Would you rather get started yourself?
Email marketing is certainly not outdated. It is therefore wise to continue to work on this as well. Of course you do need a solid and qualitative database for this. Daisycon can easily help with this as well. With the help of a cost-per-lead fee and our publisher network, you can collect leads for your newsletter yourself. A welcome discount on a first purchase or a free goodie often increases the conversion rate. Consumers who subscribe to your newsletter are already interested in or have an affinity with your product or brand.
Would you like to know more about email marketing at Daisycon or starting your own lead campaign? Contact us via the contact form on this page!