WebTomorrow 2016
Date of publication: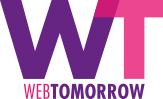 On Thursday June 16th, WebTomorrow 2016 will be held at Flanders Expo in Ghent, Belgium. There will be 3 different stages, each hosting a different topic: Disruption & Innovation, Future of Marketing and Startups
. There will be over 50 speakers servicing the 1,100 visitors. Visit the WebTomorrow website for the full program.
Daisycon will be present to take place in discussions and networking. Are you going to be present in Ghent? Make sure to contact us and schedula a meeting. See you in Ghent!