Whitepaper: Setting the perfect commission for your affiliate campaign
Download Daisycon Whitepaper for free
Date of publication:
Setting the perfect commission for your affiliate campaign
One of the most important ways to attract publishers to your campaign is – of course – the payout. A general rule of thumb: the higher the percentage of the commission, the more
publishers you attract. However, you need to keep production costs and margins in mind, in order for your campaign to stay profitable. On the other hand, you'll want to remain competitive with other affiliate programs.
To be able to do so, it's important to determine which type of commission works best for you. But there are so many commissions to choose from. Do you know which one to pick?
In this whitepaper, we therefore discuss the different commission types out there, what to keep in mind when selecting a certain commission and we close off with 4 tips on how to calculate the perfect commission.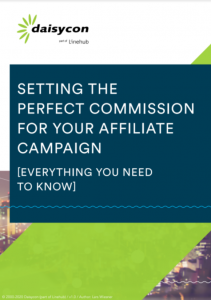 Author: Lars Wienser
Senior Channel Manager DACH at Daisycon (part of Linehub)