Let's Get Acquainted
About Daisycon
Advertisers continuously aim for more sales, more leads and a larger online reach. Publishers aim for higher returns out of their websites, mailing lists, socials and other media. Daisycon has been building on a widespread (international) network that structurally contributes to realising these goals. Read more about the history and vision of Daisycon.

Offices
Daisycon offers global reach, offering its services from five offices throughout Europe:
Almere, Netherlands (HQ)

Aarhus, Denmark

Antwerpen, Belgium

Oldenburg, Germany

Oslo, Norway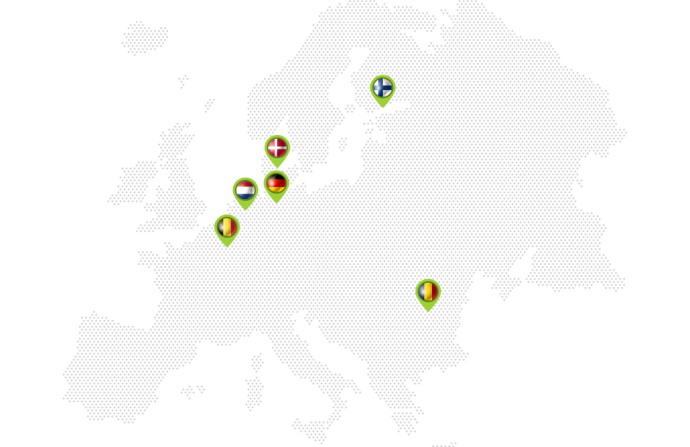 Vision
When you read about performance based online marketing, for example Affiliate Marketing, it sounds primarily like a technical process. But behind the technology it's the people who make campaigns to a success. These people are the publishers, the advertisers and last but not least, the specialists at Daisycon who use their knowledge and experience every day to connect these two parties.
Timeline
Ever since its launch in 2000, Daisycon has been one of the leading players in performance based online marketing. The Daisycon brand has been running since 2007; before this date, the company's kliks.nl, affiliates.nl and leadbutler.nl were functioning seperately; for each service (respectively CPC, affiliate marketing & lead generation) a seperate website was available. By bundling these services into Daisycon, and by ensuring more synergy between these services; a vital step to make Daisycon a European player was realised.
Daisycon Timeline
2000

2007

Introduction of the brand Daisycon

2010

10 year anniversary: company trip with the whole team to Milan, Italy.

2012

Collaboration with (the originally German) Affiliprint, to give their distinctive services (media inserts) a flying start in the Benelux.

2014

Opening of the completely renewed and expanded office in Almere, in order to house the growing team.
Receiving patent for 'SmartView', an innovative function to enrich statistics.
First affiliate marketing network with payment options in crypto currency (bitcoin).
Acquisition of AdForce in Belgium, strong growth in market share and the opening of the new office in Mechelen, Belgium.

2015

Acquisition of Affiliprint (Germany and the Netherlands) and the opening of the office in Oldenburg, Germany.
Founding of the subsidiary company DSC Finance, equipped with AFM licences to make financial comparators fully compliant with the strict legislation.
15-year anniversary, writing history with the entire team during a weekend on the isle of Ameland.

2016

Cooperation with the German company Sovendus; formation of a joint venture Sovendus BV. Introduction of check-out marketing on the Dutch market.
Relocation of the Belgian office to Antwerp, together with Affiliprint moved into the brand new Fosbury & Sons complex.

2017

Implementation of Slack for all labels: Daisycon, Affiliprint and Sovendus. One of the first companies in the Netherlands to fully implement this internal communications platform.

2018

Expansion of Sovendus BV to Belgium.
Acquisition of media agency Conversive.

2019

Launch of Linehub, a collective of marketing makers. Connecting the four labels under one family brand.
Acquisition of the Scandinavian Artefact Affiliate Nordics (formerly known as NetBooster), part of the publicly listed Artefact. With the acquisition comes 17 years of performance based marketing and a team of collega's in offices in Aarhus (Denmark) and Oslo (Norway).
Working is much more than just a way to make money. Passion, meaning and satisfaction make our work more than just a job. Daisycon knows its place: we are part of a society and part of the career of our employees. Of course, we also like to make a profit; together we work hard on a continuous and solid growth of Daisycon. But in addition to economic interests, other interests are also taken into account. We believe it is important that everyone has the opportunity to grow with us; publishers, advertisers and our employees.
Ambition and pleasure
Our employees are young, enthusiastic people with ambition, who work with pleasure and passion to deliver quality and service. Employees are given the opportunity to work part-time, so that they can broaden their horizons in other ways. They take care of their children, volunteer or study.
Ecological footprint
Daisycon in turn, likes to contribute. In recent years we have undertaken a number of actions to ensure that we drastically reduce our ecological footprint. Our office is practically next to Almere Central Station; most of our colleagues come to our office by public transport.
Online is, logically, the standard at Daisycon. 98% of our invoicing is handled digitally, our data centre is energy efficient and runs on green electricity, just like the rest of the office. Our coffee has the Max Havelaar quality mark, and our fleet is exclusively electric or with energy label-A.
Press
Daisycon regularly receives requests to give presentations, workshops or guest lectures. We are enthusiastic about our field and proud of our work. We like to share our vision, our know-how and talk about market developments.
Would you like to invite a Daisycon online marketing professional for a presentation? Please feel free to contact us!
There is an extensive FAQ available, regarding our line of business and our technologic solutions.
We regularly offer internships for students. On our Linehub recruitment website you will find all vacancies at this moment. Requests for assignments, for examples thesises, can be send to our Marketing & Communications department.
Press material
You are free to use this material when reporting about Daisycon. You may not modify the content of this material without Daisycon's permission. Photos of our offices and management can be requested, as well as the logo in CMYK, PMS or RGB.
Vacancies
Technological leadership is the backbone of our organisation. This is expressed not only in the innovation of software that our customers use, but also in the tools that are available to our employees. We are open to the latest tools and techniques and we expect the same from our new colleagues.
If technological leadership is the pillar of the organisation, then you need to be able to adapt quickly. Standing still is not an option. We offer our employees every opportunity to excel in their work. Of course, this includes a reward, but that is more than just a salary. What also counts are the right employment conditions, career opportunities and challenges. We are convinced that we can offer you that. Do you want to know more about working with us? Take a look at the vacancies.
See current vacancies