How to generate more quality leads in two easy steps
Author: Philip Lasance, Media Planner Lead Generation, Daisycon
Date of publication:
Email is still one of the most effective marketing tools. Do you want to generate more newsletter subscriptions? Dedicated lead campaigns can help. But how do you ensure new customers will leave their contact details? In this blog we give you a two-step-method and a couple of creative examples on how to do this.
And not without reason: emailmarketing is a great way to reach your target group more than once, without constantly having to specify an advertising budget.
This tool is therefore again number 1 in the top 3 of most important tools in the online marketing mix. In second and third place are respectively SEO and SEA. The complete overview can be found below: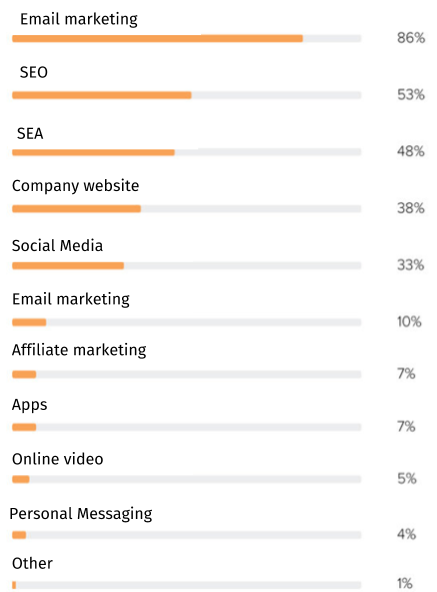 Reason enough to increase your customer base. With the help of these two steps you will generate even more newsletter subscriptions:
1. Offer a relevant incentive
If you want to generate more newsletter subscriptions, you must first clearly identify why your intended target group would like to subscribe to your newsletter.
Try to think for your target group. What's in it for them?
A visitor will not sign up for a newsletter without reason. But if you offer a relevant incentive – such as a discount, a free sample or exclusive content – you have completed the first part of your successful newsletter subscription.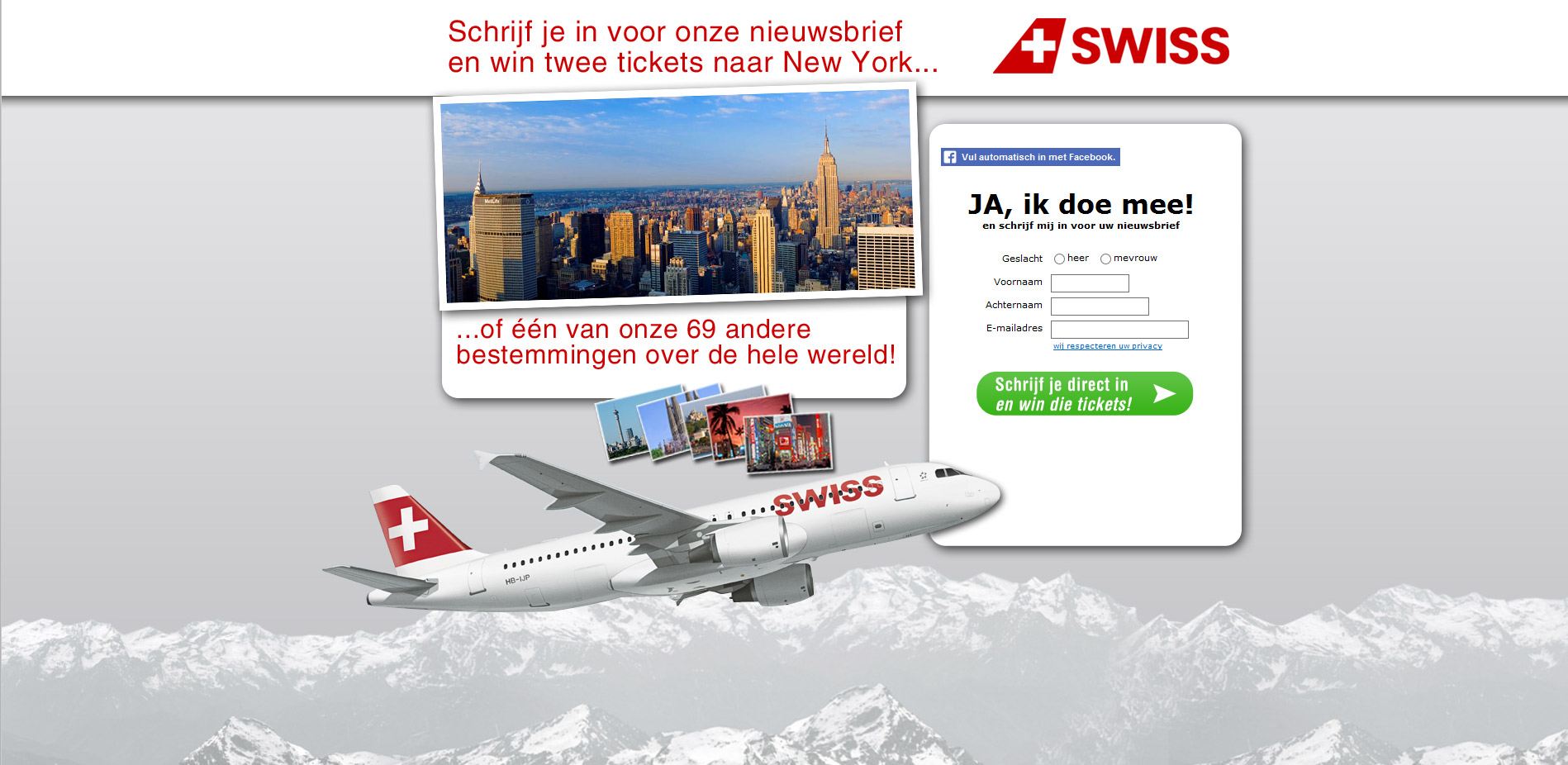 The Swiss Air campaign (image above) was set up to generate newsletter subscriptions. This goal was quickly achieved thanks to the alluring incentive. With an attractively designed landing page, a clear message and strategic positioning Swiss Air succeeded in expanding the newsletter database with tens of thousands of consumers within just a few days.
Map your target audience
To better map and further segment your target group, you might be thinking of asking a lot of data during the subscription process. For example, you can organize visitors by age, gender, place of residence, or level of education.
But beware: this will not benefit the conversion. The more information you request from the visitors, the sooner they will drop out. Therefore, it is generally recommended to only ask for the absolutely necessary. In regard of the GDPR that came into effect recently, this is even more advisable.
Fortunately, you can still be very creative!
Often, extensive persona descriptions of the ideal customer(s) have been mapped internally. To minimize subscription fields, MS Mode used these persona descriptions in their lead generation campaign. On the landing page, participants could choose between 3 different outfits from the current collection (image below, target language was French). Different persona were linked to each of these outfits.
When someone subscribed to the newsletter, this visitor could win a webshop voucher worth € 250, -. Each participant also received an online discount code after verification of the e-mail address.
The campaign was primarily aimed at recruiting newsletter subscriptions, but also managed to map the target group and also contributed directly to an increase in turnover in the web shop because of the relevant incentive.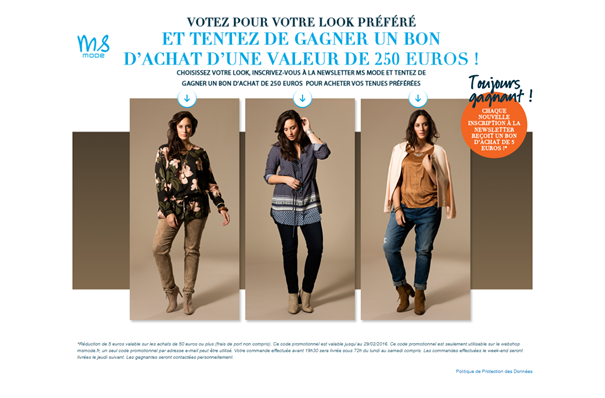 2. Make smart use of the social sharing options
By now you've probably come up with an original incentive that excites your target group and that fits perfectly with your brand's newsletter service. As soon as you generate subscriptions, it is important to make optimal use of this.
You do this, for example, with a smart thank you page that automatically appears after (confirmation of) the registration. By placing social sharing links on this thank-you page you can generate even more subscriptions.
These social sharing links are the icing on the cake for every newsletter campaign. With these links each participant can easily share the lead generation campaign with their friends via the various social media channels where they are present. This creates a snowball effect and the so-called social sharing option can lead to an increase in conversion of an average of 35%.

Social sharing links can create multiple subscriptions because of just one subscription.
But how do you tackle this creatively? Time for an example!
For the campaign of the Danish retail chain JYSK, new members could win a free box spring when they signed up for the newsletter. Thanks to the social sharing option, their odds were doubled when they invited five friends. Three out of ten participants shared the promotion on Facebook or Instagram!
In total, 9.2% of all newsletter subscriptions were generated via the social sharing campaign. As a result, the conversion rose to an average of no less than 23%!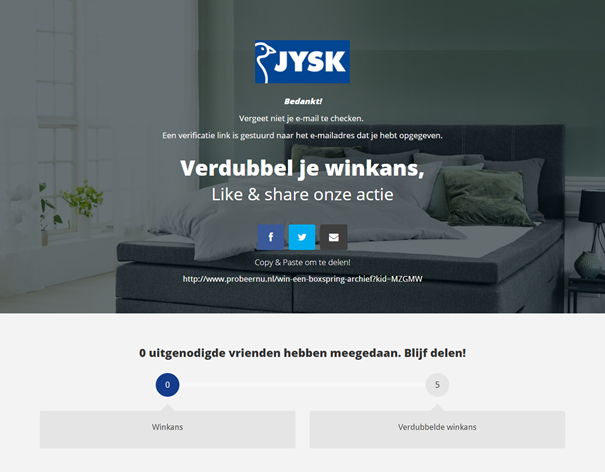 JYSK cleverly applied the social sharing option
To conclude
Newsletters are a hugely popular and effective part of the online marketing mix. In this blog you have learned two ways to generate more newsletter subscriptions: With the help of relevant incentives and a cleverly placed social sharing option, you can expand your e-mail database. You can also combine these two techniques for even more response.
Daisycon can help you expand your newsletter subscriptions database. In consultation with you, we can shortly set up a high-quality campaign.
Contact us for more information.