Start-ups and affiliate marketing – How to boost the growth of your online business
Author: Sylvain Joseph, Channel Manager France
Date of publication:
Defining a start-up's digital marketing strategy in the early stages of its development is both essential and challenging. To ensure rapid growth, the start-up's marketing manager needs to fine-tune its brand image and build awareness quickly and on a large scale, while optimizing the customer experience so as not to miss out on a single conversion; and on the other hand, rely on a limited budget, and measure its return on investment (ROI) in order to justify its costs to its hierarchy and its investors.
Several strategies are possible to meet these criteria: diversify your acquisition channels by experimenting with different formats to broaden your reach as much as possible, communicate regularly by following trends to seek a viral effect, or rely on various growth hacking methods and performance marketing to maximize your ROI.
In this article, we will see how affiliate marketing meets all the challenges that a start-up may face in developing its growth strategy.
What is affiliate marketing?
If you are not familiar with the world of affiliate marketing, let's review the basics of this form of marketing.
Affiliate marketing is based on partnerships between an advertiser and a pool of publishers:
>>> The advertiser has an online business to promote (e-commerce, service provider, consultancy, software, etc…), and makes promotional material available to its publishers.
>>> The publishers have an audience generated via a media (social networks, blogs, comparison sites, partnerships with Google Shopping or Ads, etc.) and promote the advertiser's product/service to their audience.
The advertiser pays commissions to the publisher, most often based on the volume of sales generated (CPS).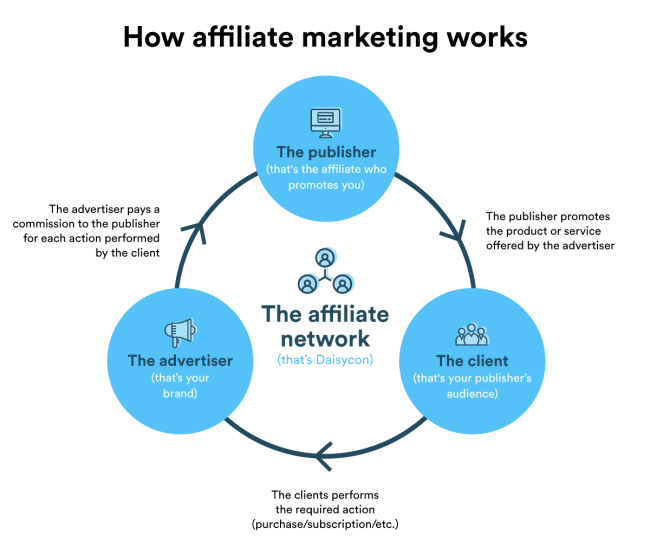 Why a start-up should do affiliate marketing
1. Affiliate marketing provides a presence through many acquisition channels
Whether you want to work on your branding, convince a prospect who already has a purchase intention but doesn't yet know which product to choose, reduce your cart abandonment rate, or build customer loyalty, affiliate marketing works at all stages of the customer journey and always has a solution to offer!
Influencers and content sites can build brand awareness, comparison sites and specialist sites can justify your expertise to your market and encourage undecided buyers, and coupon/discount websites can convince a customer to make a purchase.
2. Affiliate marketing boosts your visibility and trust
A consumer will often refer to the behavior of others before making a purchase decision; this phenomenon is called social proof. Thus, when faced with an unfamiliar brand, consumers will naturally be suspicious and refer to the behavior of their peers.
By being promoted by publishers that your prospect already trusts, you ensure that your brand has greater legitimacy with your core target audience and are sure to sell.
3. Affiliate marketing is cost-effective and its performance is measurable immediately
Affiliate marketing works on a performance and cost-per-sale (CPS) basis – that is, your marketing costs are based on the performance of your campaigns and the number of sales they generate. In other words, no sales = no costs… you're always profitable! In addition to this, affiliate marketing relies on tracking technology that has been refined over the thirty year history of the industry. Every click and sale generated is directly measured and assigned to the contributing affiliate publisher, allowing immediate tracking of your conversion rates, costs and ROI.
Focus on: the different commission models in affiliate marketing
The three most common commission models in affiliation are (from most common to least common):
CPA (Cost per Action): you pay your publisher a commission each time the customer performs the desired action (purchase, click, lead, app-install etc). CPA is a generic term that includes the other commission models mentioned below.
CPS (Cost per Sale): you pay your publisher a commission for each sale generated. This commission is either a fixed sum or a percentage of the turnover.
CPL (Cost per Lead): you pay your publisher a commission for each lead generated. A lead can be a prospect filling in a registration form, a contact request, the download of a white paper etc.
CPC (Cost per Click): you pay your publisher a commission for each click generated. This model is the least common because it offers less control over your ROI, and therefore your marketing budget.
Is your start-up ready to launch an affiliate programme?
This article has aroused your curiosity and you are considering adding affiliate marketing to the many levers of your marketing strategy, but you are not sure if your start-up is ready to take this step? Here are some criteria to consider:
>>>Have you found your final business model?
This may seem like a silly question at first, but it is critical to the success of your affiliate programme. A good understanding of your costs and margins is necessary to project yourself and define the commissions you are prepared to pay to your publishers.
A lack of stability in your business model could lead to too frequent changes in commission models and products, which in turn leads to a lack of stability in your collaboration with your affiliates and damages your relationship with them.
>>>Do you already have a clear marketing mix?
As we have seen, affiliate marketing is a very effective lever to accelerate your business growth and increase your sales volume, but it is not enough on its own! Your affiliates will drive traffic to your channels, but it's then up to you to convert them into customers… A poorly crafted brand identity, poorly chosen products, unattractive offers and a sloppy customer experience will not only drive down your conversions, but will also make it harder for affiliates to promote your brand, and therefore less interesting.
How your start-up should do affiliate marketing
Are you convinced of the added value of affiliate marketing and is your start-up ready to launch?
Here are some of our best practices to get your affiliate programme off to a good start and acquire a maximum number of publishers.
Define your objectives and expectations
Defining the objectives of your programme in advance will enable you to adapt the offers you make, the types of partnership you seek, and your commission model. A good understanding of your objectives will allow you to define KPIs (Key Performance Indicators) to measure your performance.
>>>Is your goal to generate visibility in a new market? Prioritize partnerships with content sites and influencers and offer them gifting and exclusive promotions to motivate them. Measure the traffic generated to your site through unique clicks and estimate the engagement your affiliates have created around your brand based on metrics such as Earned Media Value (EMV).
>>>Do you want to reduce your cart abandonment rate? Work with mid- and end-of-customer journey publishers and measure the conversion rate of the traffic they have generated.
Stay open to all forms of collaboration
If you are new to affiliate marketing, the first forms of collaboration that come to mind are probably influencers and blogs. However, there are many more forms of promotion that are often much more effective, but some of which are sometimes more complex than others. You can work with Google Ads, display and retargeting networks, cashback platforms, sub-networks and many more! Never reject an affiliate proposal without considering its added value to your programme.
Focus on: collaborating with CSS partners
CSS partners
promote you via Google Shopping. Thanks to their expertise, you can be sure that your products will appear at the top of the results for the most popular keywords. Moreover, these publishers only charge a CPS (Cost per Sale), whereas Google Shopping normally charges a CPC (Cost per Click) when you work directly on their platform – so you benefit from the expertise of the CSS partner, while keeping a full control of your ROI thanks to the CPS model!
The aim is not only to make yourself attractive to customers, but also to publishers
This last point is probably the most important. Most publishers are flooded with partnership offers from advertisers. It is therefore essential that you create an offer that stands out from other advertisers. Consider, for example:
>>>Promoting your affiliate programme through your other channels. An announcement on your social networks (LinkedIn etc.), a registration link in the footer of your website or a blog post are good ways to attract the attention of publishers who are looking for new partnerships.
>>>Making as much material as possible available to your publishers. Your publishers need material on which to base their promotions, and will see no point in participating in your affiliate programme if you don't offer them the necessary resources. Make sure you offer optimized landing pages with a variety of banners. Don't forget to also provide your affiliates with a comprehensive product feed and regularly updated offers. Finally, set aside a budget to offer products/licenses/demos/etc to your partners; they will need them to understand your product/service and promote it better.
>>>Rewarding the efforts of your publishers. Consider your publishers as your partners and show them your appreciation. For example, you can set up a hybrid commission model with performance tiers, or a bonus system. Be creative to keep your affiliates motivated!
Things to remember
Thanks to the diversity of channels it offers and its performance-based business model, affiliate marketing is a powerful tool to accelerate the growth of your start-up and increase your sales volume; you can improve your customer experience at all stages of the sales journey, while being sure to keep control of your ROI.
Once your business model and marketing mix are clearly established, and your expectations and strategy are clearly defined, nothing should stop your start-up from creating a successful affiliate programme!
If you want to go further, you can read this article and discover how the start-up Emma Sleep went international thanks to affiliate marketing.
Finally, if you feel ready to start, get in touch with one of our affiliate specialists to discuss your strategy together!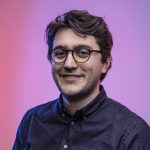 Want to know more?
Contact me if you want to discuss the possibilities for your brand.
– Sylvain Joseph
Daisycon Channel Manager France