Increase your ROAS with one handy tool between Daisycon and analytics
Guest blog by Bart Houtman, founder & owner Ivanhoe.io
Date of publication:
Daisycon offers useful functionalities to properly measure your marketing activities. For example: SubIDs, Search Engine conversion tracking, Smart view and a javascript to dynamically fill SubIDs. To take full advantage of these activities, there is now a unique tool that helps you optimize your website and increase your ROAS.
Being successful with Affiliate Marketing is not based on luck, it is a matter of analysing results and responding to these results. In this guest blog I explain how, as a publisher, you can get more out of your affiliate activities, by using one handy tool.
Find out the source of your traffic
Most successful publishers know how to analyze what works and what doesn't. This allows them to perform optimally. Yet we see that publishers eventually run into the following problem:
After the visitor leaves your site via an affiliate click, you can no longer measure the consumers' behavior and next steps. You never know exactly which traffic source, keyword, page or other on-site data you can optimize to increase your return.
Measuring after the click
To find out what your visitors do after the click has been made, we have developed a tool as a "missing link" between a number of platforms: Ivanhoe.io. Ivanhoe.io is a new tool that makes good use of so-called sub-IDs. This way, with the use of this tool, you can tag your website visitors anonymously, so that you can match your transactions from Daisycon to visitor profiles.
This way you can automatically link transactions to your favorite analytics and marketing platforms, such as Google Analytics & Adwords, Microsoft Ads, Facebook and more.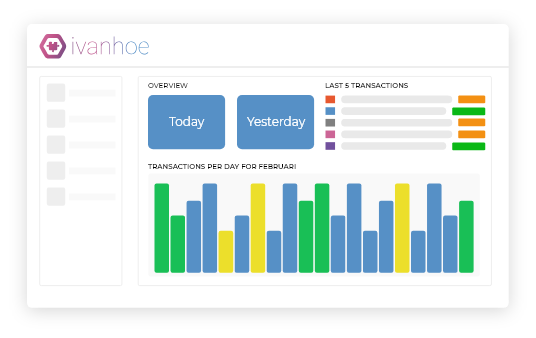 One clear dashboard provides insight into which traffic source resulted in a conversion. In Google Analytics you can see, for example, which keyword, which traffic source and which exit and landing page on your website caused the converted click! This makes Google Analytics a much more powerful tool for publishers. This means that when purchasing traffic or on-site SEO optimizations, you can steer on actual data. The same goes for any popular CPC network you use.
Updates & new features based on market needs
Ivanhoe.io regularly makes adjustments to the software based on customer requests. Because of this, the software is not only developed from the perspective of affiliates, but also meets specific needs with room for customization. Do you have any requests? I would like to start a conversation with you to discuss the possibilities.
Special promotion for Daisycon publishers
Ivanhoe.io now offers Daisycon publishers the chance to use the tool for free. Via this link you can create an account without any restrictions for the first 14 days. After that, the tool remains free for users with less than € 1000 in affiliate transactions per month. A good time to start now!
How does Ivanhoe.io work?
You place a script in the header or footer of your website. It doesn't matter where, as long as the code is on every page you want to measure.
In the subID of the affiliate links on your website, place this variable: IVANHOE. This automatically fills in the SubID with the information Ivanhoe.io needs to make the connections.
In your Ivanhoe.io account you only need to link your Daisycon account, so that your transactions are automatically retrieved and forwarded to your specified links.
Thanks to the easy integration, you can get started within 5 minutes! As a publisher you will receive a wealth of information that will help you to take the promotion and optimization of your website (and the advertisers present there) to a higher level.
Get started for free
As a publisher of Daisycon, you can now temporarily use the tool for free. Find out how to get started right away here..
Are you a publisher and do you want to know more about optimizing your affiliate activities?
Our Publisher Managers team will be happy to help you! Fill in the form on this page and we will contact you as soon as possible.
Curious about the developments in our network? Also read: